Water Heater Repair in Arvada CO

If you need a plumber you can rely on for water heater repairs on short notice, you're in the right place.
How is the water heater repair service we offer any better than the next plumbers? Because we prioritize hiring only the most experienced plumbers we can find. That means our technicians have worked on more water heater brands and water heater problems than just about anyone. Our plumbers know exactly what parts it will take to do the job, and they know which parts are worth keeping on the truck at all times.
Even the best water heaters don't last forever, but our experience has also taught us which brands and models will keep working for years to come and which will start acting up the minute their warranties expire.
---
We Service All Brands of Water Heaters
A.O. Smith




Bradford White

Takagi

Rinnai

American Standard

Whirlpool

State

Kenmore

General Electric

Noritz

And more
---
Our Arvada Plumbers Can Fix Any Water Heater Issue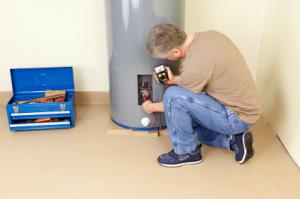 There is more than one way a water heater can break down. While the most common water heater issue is insufficient heat, a broken water heater can also contaminate your water, not stay on consistently, not turn on at all, lose heat too rapidly, produce unwanted noise, or leak.
The good news is, no matter how your water heater breaks, we have the tools and experience to fix it.
---
Regular Maintenance Will Save You Money

Most water heater issues are preventable. Hard water buildup that reduces your heater's efficiency and contaminates your water, gas injector malfunctions, and early signs of leaking are all easy to spot and can potentially save you from an emergency breakage--and emergency service. Ask one of our team members today about our annual maintenance packages if you never want to deal with a broken water heater again.