Why Call Us For Your Arvada Plumbing Needs?


When shopping around for an Arvada plumbing company trust the plumbers your neighbors call. We're part of this community, not just some faceless corporation that has moved into town to make a quick buck. Each of the men and women who work for us lives right here in town and has a real interest in the safety and security of your home and family. When you have a plumbing emergency that could cause damage or destruction we suffer right alongside you. That's why we respond quickly and find a lasting and permanent solution to the problem, rooting out the cause so it doesn't happen again.
There are other plumbing companies in town and we won't say anything bad about them. Each of the men and women who work for those companies are working hard to make a living in a profession that is physically demanding and can be downright miserable on a cold winter night. That, to us, makes it all worthwhile. It's one of the main reasons why those who started our company went into this business and it's a major part of why we stay in it today.
---
Call A Plumber in Arvada Who Supports The Community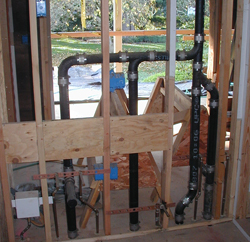 To be a true community plumbing company it's necessary to be a part of the community. That means much more than just living here. At Our Arvada plumbing company, we participate in community activities, sponsor community and youth programs, and proudly display our name on shirts and trucks. You won't see a panel truck with no logo pull up at your house when you call us for plumbing service. We show up with our own trucks, fully stocked with new replacement parts, tools, and the best technology money can buy.
"Great service. [The plumber] called to let my husband know when he was coming over, he was courteous, quick, and even cleaned up after himself. A+, will call again."
- Liz P.
"They did a great job. They fixed my plumbing issues within only a few hours and I haven't had any issues since. They were reasonably priced and I would recommend using them again if i had any further issues."
- James B.